High operability, reliability and durability are required for the control panels, which intensively manage all the control machines at a time when the instrumentation systems are gradually becoming highly advanced. HINO SYSTECH designs and manufactures the control panels, which are essential for the automation of the plant facilities, including energy conservation, totally from the hardware to software.
Sheet Metal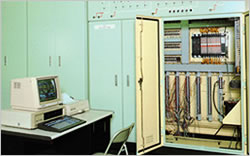 We manufacture any type of product, which is decided to be necessary, from a large product with an inside passageway, desk, rack, box or product with special shape or size, to pedestal or small fitting.
We can manufacture not only general cold-rolled sheet steel ( SPC ) or hot-rolled sheet steel ( SPH ), but also products using galvanized sheet steel ( SGCC or SECC ) or stainless product ( SUS304 or SUS316 ).
Coating
HINO SYSTECH responds to the demands for not only standard coating such as melamine baking finish, denaturated epoxy resin baking finish, or urethane resin natural drying, but also special coating.
We have high and severe coating quality standards in film thickness, bed treatment or surface finishing, and our anti-corrosive treatment has been highly recognize in indoor or outdoor products or those within special environments.
Assembling & Wiring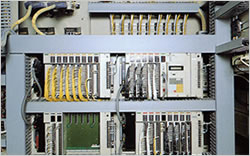 Skilled workers assemble the panels and arrange wiring.
Because most of the assembling and wiring operations are performed in the same place as the designing, we can respond quickly to any requests for additional design or manufacturing.