Test &
Maintenance at Site
HINO SYSTECH, as a specialist of field techniques, provides various services such as comprehensive testing on site, loop testing or instrument maintenance to keep the reliability of the instruments.
At the site of PA/FA, any minor mistakes are not allowed. Therefore, we perform a thorough enough inspection in the testing and maintenance on site that ensures that the client is both satisfied and confident to use our products.
Test at Site
For the control system for PA or FA, the full capability and functions should be shown securely.
During product installation in the plant site, the start-up service engineer of HINO SYSTECH thoroughly checks the control system including all aspects from the sensors to final control element. The test run is then repeated until the plant commercial operation is started. Therefore, the client can use the system with confidence and peace of mind.
Also, HINO SYSTECH provides operator training to the clients until they master it completely and are able to use the system smoothly.
Maintenance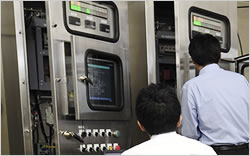 HINO SYSTECH provides ongoing maintenance service to ensure that the system operates safely for a long time.
In addition to providing services that respond to client requests such as periodic system maintenance and emergency maintenance, we also make proposals for maintenance menus that are suitable for the client's system.